Hannah Skalecke, MPT
Hannah, a native Vermonter, received her Bachelor of Science in Nutrition from the University of Vermont and her Master of Physical Therapy from Clarkson University. Prior to working at the clinic within the Green Mountain Valley School, she worked in several orthopedic outpatient settings in southern California. Areas of clinical interest include postural restoration with a sports and orthopedic focus, as well as spinal mobilization. In her free time, she enjoys road and mountain biking, hiking, skiing and spending time with her family.
Steve Skalecke, MPT
Steve graduated from Marquette University with a Bachelor of Science in psychology and biology in 1997 with a Master of Physical Therapy. He has a strong clinical background in orthopedic manual therapy and has done extensive post-graduate work with the Institute of Physical Art. Other areas of clinical focus include postural restoration as well as functional training. Prior to moving to Vermont, Steve had worked in southern California both as a rehab director, and in a progressive outpatient orthopedic clinic, focusing on patella-femoral dysfunction. In his free time, Steve enjoys mountain biking, skiing and fly fishing.
Sarah Pashby, PT
Sarah is a native Vermonter and outdoor enthusiast who received her BS in physical therapy from the University of Vermont in 1998. The bulk of her post graduate education as well as clinical passion has been in the area of gait analysis and foot mechanics. This focus along with a whole body postural restoration lens has influenced her work in both orthopedic and neurological settings. She fabricates a variety of orthotic products for both gaited and non-gaited sports. She has lived in the Mad River Valley since 2001 and enjoys hiking, biking and skiing with her husband, three children and dog.
Brie Pike-Sprenger Beckwith, DPT
Brie is a native Vermonter with a lifelong passion for snow sports. She attended Stratton Mountain School and was a member of the U.S. Alpine Development Team. She went on to captain the Middlebury College Alpine Ski Team, where she graduated with a joint B.A. in Psychology and Education in 2004. Brie pursued her clinical doctorate in physical therapy at the University of Vermont in 2008.
Prior to working at Elevation Physical Therapy, Brie was the head physical therapy for the Women's Alpine U.S Ski Team and supported the athletes during World Championships in 2013 and 2015 and the Sochi Winter Olympic Games 2014. Her areas of clinical areas of interests are sport injury reconditioning, postural restoration and polestar pilates. When she is not in the clinic, you can find Brie exploring Vermont on foot, bicycle, kayak, or skis. In the winter season, she spends her free time lapping the single chair at Mad River Glen, or striding on the Catamount Trail.
Janey McClelland, DPT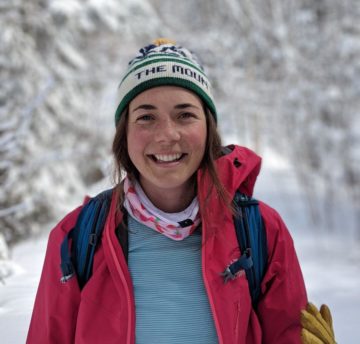 Janey McClelland grew up in the Adirondack mountains of New York State. She attended Burke Mountain Academy and then went to race Division I Cross Country at The University of Vermont. While competing at UVM Janey received a Bachelor of Science degree in Nutrition and Food Science. Upon completing her undergraduate she went on to complete her Doctorate of Physical Therapy UVM.
Janey has been working in the orthopedic outpatient setting since graduating from the University of Vermont in 2016. Prior to working at Elevation Physical therapy, Janey worked in an outpatient orthopedic physical therapy clinic in Lake Tahoe. Janey is passionate about getting her athlete patients of all ages back to the activities they enjoy. In her free time Janey enjoys trail running, mountain biking, and skiing.
Gabriela Zimbron, ATC
Gaby received her bachelors of Science in Athletic Training from the University of Vermont, working with Division I collegiate athletes, high school athletes and physical therapy patients. Prior to joining the Elevation team, she worked at a private boarding school in New Hampshire. She brings her experience treating athletes participating in traditional sports, as well as equestrian, white-water kayaking, mountain and road cycling and high level skiing and snowboarding.
Gaby appreciates the strain that injury can have on the mind as well as the body, especially for athletes, and takes this into consideration when working with her patients.
Having been born in Vermont, Gaby enjoys backcountry snowshoeing and snowboarding, but her true passion is cycling. In 2017 she biked across the country, and raced up the Mount Washington Auto road in 2019. Beyond athletics, Gaby enjoys spending time with her family and friends, cooking and baking, and traveling when she can.
Heidi Bridgewater, PTA
Heidi has worked with Elevation PT since 2012 and brings many years of clinical experience in a variety of clinical settings. When Heidi is not in the clinic, she enjoys spending time outdoors and being with her family.